ANNE MARGARET LIM
ASHTANGA YOGA
ORTIGAS STUDIO
Anne Margaret's journey into the realm of yoga began in 2004 when she stepped into her first Vinyasa Flow class that led to the next three years practicing Bikram. After more searching, she knew she had found the pot of gold as they say, at the end of yoga's colorful rainbow when she tried Ashtanga yoga. She continued on this fork of the road and did teacher training programs with Tim Miller and John Scott, in addition to learning from all the other luminaries in the yoga world.
Anne has been blessed to learn much, to experience much that is all now a blend within her; a blend that she gives a new twist to with a personal touch all her own. But in the end, she always circles back to her innermost experiences both on and off the mat. It is these personal insights that guide her to teach a class unlike most.
Yoga, for Anne is like life, a never-ending journey. There is always more to explore and more to learn.
CHERRY DU,
FOUNDING MEMBER
ASHTANGA YOGA, VINYASA FLOW, AND YOGA FOR CHILDREN WITH SPECIAL NEEDS
ALABANG STUDIO
Cherry Du discovered Sivananda yoga under Bela Lipat in the year 2000. She began her Ashtanga practice a year later. She is a Yoga Ed certified instructor for yoga for kids (K-8) and is certified to teach Ashtanga by Paul Dallaghan of the Centered Yoga Institute.
Cherry's love and advocacy of sharing yoga has led her not only to teach adults, she also specializes in teaching yoga for children with special needs. She is certified by Yoga for the Special Child® LLC and was trained directly under Sonia Sumar, internationally renowned yoga therapist and author for children with special needs.
"From an attitude of contentment (santosha), unexcelled happiness, mental comfort, joy, and satisfaction is obtained. (Santosha anuttamah sukha labhah)" — Yoga Sutras of Patanjali 2.42
CONNIE PONCE,
FOUNDING MEMBER
ASHTANGA YOGA
ORTIGAS STUDIO
Connie Ponce has been practicing Ashtanga Vinyasa yoga since 2000. She began to focus on the Ashtanga system in 2003 and was certified to teach in 2006 by Paul Dallaghan of the Centered Yoga Institute in Thailand. Connie has since deepened her practice by taking advanced courses and workshops with senior teachers O.P. Tiwari on Pranayama and Richard Freeman in Discovering the Primary Series.
Connie sees practicing yoga off the mat as the ultimate challenge. Her practice continues to help guide her in finding balance in life as mother, wife, student and entrepreneur. Connie manages the Ortigas studio situated at the Chi Spa, Shangri La EDSA.
GIGI POBLADOR
Gizela 'Gigi' Poblador started practicing Ashtanga yoga in 2007. "I didn't expect my practice to help me cope with life off the mat. But it did!" Soon after she turned the corner and became a serious practitioner. In 2012, she completed a 200-hour teacher training with John Scott. She has also attended workshops with A.G. Mohan, Richard Freeman, David Keil and recently finished an Intermediate Teacher Training with Hart Lazer that focused on a therapeutic approach.
"Yoga is possible for anybody who really wants it. Yoga is universal." SK Pattabhi Jois
GLENCY LITIONG
VINYASA FLOW
ORTIGAS STUDIO
Glency Litiong began her yoga journey like many others – wanting to try a new workout, needing a new challenge, expecting nothing more than the physical benefits of an increased heart rate. And like many others, Glency stepped into a class and experienced a depth and an answer to a longing buried deep within. Thus began her exploration and decision to undergo a 300-hour Teacher Training with Clayton Horton and Anna Carbonell. She has since had workshops with Will Lau, Joan Hyman, and Jason Crandell, to name a few.
Guiding students in their search and longing through asanas and philosophy is Glency's focus in each and every class. She feels that yoga has transformed her, continues to do so as she learns more, leading her to help others undergo a similar process.
MARC IMMANUEL G. ISIP (MIGI)
ASHTANGA YOGA
ALABANG STUDIO
Marc (or MIGI) started to attend vinyasa/flow yoga classes in January 2012 when he was trying to recover from a serious road accident. He used yoga to heal himself from the injuries he suffered.
He was introduced to Ashtanga yoga when a friend invited him to attend Petri Raisanen's Mysore class in March 2013. Later that year, he finished a 200-hr Flow Yoga Teacher Training (YTT) under the guidance of Nick Heng. Because of this, he is a registered member of Yoga Alliance; and he has a designation of E-RYT 200 and YACEP.
Even though he teaches flow yoga classes, he does ashtanga for his daily self-practice. He is currently practicing the full second series under the guidance of Sirilak Khotmanee.
He started teaching guided primary ashtanga in 2014 at a small yoga shala in Parañaque.
MELDY HERNANDEZ
PREGNANCY YOGA
ALABANG STUDIO
Meldy Stehmeier Hernandez was blessed to discover yoga in San Francisco where she was able to study different yoga styles including Ashtanga, Iyengar, Anusara, and Bhakti yoga that influence her teaching style until today. In 2011, she completed a 200 hour Interdisciplinary Yoga Teacher Training at the Nosara Yoga Institute in Costa Rica with Amba and Don Stapleton that focused on yoga as a self-awakening practice.
Meldy holds a bachelor degree in Nursing and Women's Studies from Seattle University and a Masters Degree in Community Health Education from San Francisco State University. She teaches Slow Flow, Vinyasa, and Pregnancy Yoga. She also enjoys teaching Yoga Dance and African Dance. Ultimately, she considers Life, Motherhood, and her students to be her most important teachers in her yoga journey.
NATALIA ELDON
ASHTANGA YOGA AND VINYASA FLOW
ALABANG STUDIO
Exploring the rhythm of her breath during yoga classes and flowing with it, felt like a meditation in motion for Natalia, when she started exploring yoga back in 2006 in Zambia. It was just what she was looking for, and it drove her back on the mat again and again.
Born in Denmark, Natalia and her family have lived in different countries for the last 23 years (The Philippines, Uganda, Zambia, Bangladesh and now The Philippines again).
She was certified by Paul Dallaghan, Centered Yoga, Koh Samui, Thailand in 2014, and has continued her advanced Teacher's Training with, amongst others, O. P. Tiwari in Pranayama.
Natalia feels more peaceful, courageous, balanced, and in harmony after having started her journey.
"I have been a seeker and I still am, but I stopped asking the books and the stars. I started listening to the teaching of my Soul." ~ by Rumi
ROBERTA FELICIANO,
FOUNDING MEMBER
ASHTANGA YOGA
ALABANG STUDIO
Roberta Feliciano has practiced yoga since 2001 and completed her teacher training in 2006 with Paul Dallaghan of the Centered Yoga Institute in Thailand. After sampling numerous styles of yoga such as Iyengar, Anusara, Sivananda and various styles of "Power Yoga", she has found her true calling in Ashtanga yoga. Roberta has taken further studies on Pranayama with O.P. Tiwari, Advanced Anatomy with Neil Barker as well as workshops with senior Ashtanga teachers like Richard Freeman, John Scott and Tarik Thami. She is a Yoga Ed certified instructor for yoga for kids (K-8) and also manages the Alabang studio.
"Public service is the only reason for our existence" was a belief that Roberta's father used to propel his decisions in business and is likewise her imperative in teaching yoga – to be of help and service to others.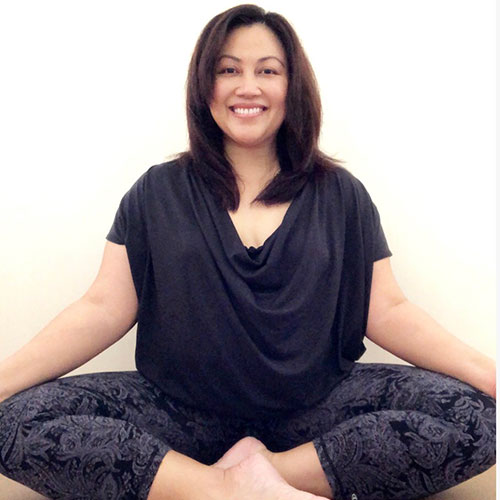 TRACY QUE
ASHTANGA YOGA, PRE AND POST NATAL YOGA
ALABANG STUDIO
Tracy Que began as a professional golfer before starting her journey with Yoga.
In 2009, She completed a 200-hour Teacher Training with Greenpath Yoga under Clayton Horton. The following year, she completed an additional 50-hours of Teacher Training in Pre and Postnatal Yoga from Centered Yoga Thailand under Sonja Rzepski.
Tracy now specializes in Beginner's Ashtanga Yoga, Yoga Flow (Sivananda based), as well as Pre and Postnatal Yoga. She keeps inspired and abreast of new knowledge not only through daily practice of the Ashtanga method but continuous participation in various workshops and retreats.
B NAKPIL
ASHTANGA YOGA AND VINYASA FLOW
B Nakpil began teaching in 2005 and was certified in December 2006 by Paul Dallaghan of the Centered Yoga Institute in Thailand. She continues to take courses & workshops to deepen her understanding of the practice: Yoga Philosophy (Hatha Pradipika) with Paul Dallaghan, Advanced Anatomy with Neil Barker and Pranayama with O.P. Tiwari.
B first tried yoga in 2001 and has since set on a quest to experience it more fully. At conferences and retreats in the Philippines and abroad, she has had the opportunity to take workshops with teachers such as John Scott, Sharath Rangaswamy, David Swenson, Richard Freeman (Ashtanga); John Friend (Anusara); Rina Ortiz & Cle Souren (Iyengar); and David Life & Sharon Gannon (Jivamukti).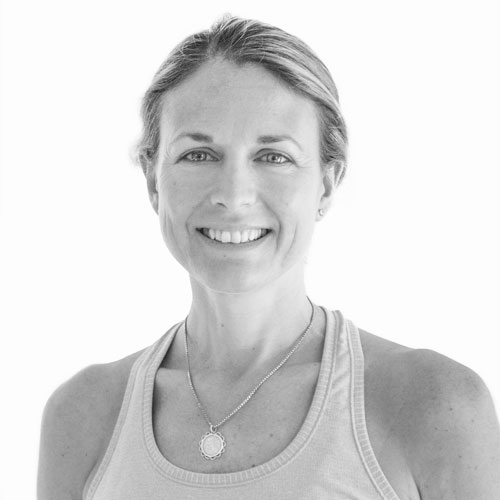 CAROLINE KILA
ASHTANGA YOGA AND VINYASA FLOW
My love of yoga has been deeply rooted since my teenage years. I discovered Ashtanga Vinyasa when I moved to the Philippines thanks to Bela Lipat, and was certified as a teacher in 2005 by Paul Dallaghan from Samahita Retreat. Since then I have also completed their 500 hour, and 1100 hour trainings. I also follow yearly workshops and trainings with international teachers with a particular interest in breath work, anatomy, alignment, and somatic practices.
I have been in the fortunate position to have followed the pranayama teachings with Sri O.P Tiwari since 2006. I have maintained a daily practice and continue studies with him to this day.
In 2016, I became a certified yoga therapist and a continued hands-on deepening of my knowledge of using yoga as a therapy benefits many of my students. Using yoga as a healing practice is one of my main motivations as a teacher.
I have taught in Australia, Mexico, Japan and currently am co-founder of Ashtanga Yoga Lausanne in Switzerland. Come and visit me if you are in the neighborhood!
JON CAGAS
ASHTANGA YOGA
Jon Cagas' background in both dance and sports first attracted Jon to the grace and athleticism of Ashtanga Yoga. Jon earned his Master's degree in Physical Education and Bachelor's degree in Sports Science (1999) from the UP College of Human Kinetics in Diliman. As a physical education instructor at the University of the Philippines and assistant coach of a varsity team, Jon was instrumental in bringing yoga to the academic community.
In August 2007, Jon was certified to teach yoga after completing an intensive training, an advanced course in pranayama and yoga philosophy at the Centered Yoga Institute at Yoga Thailand. In 2008, Jon spent 4 months in India to study at the K.P. Jois Ashtanga Yoga Institute in Mysore, the Sivananda Yoga Ashram in Neyyar Dam and the Kaivalyadham Yoga Institute in Lonavla, where he completed a one-month certificate course on pranayama. Jon also studied traditional Ayurvedic massage.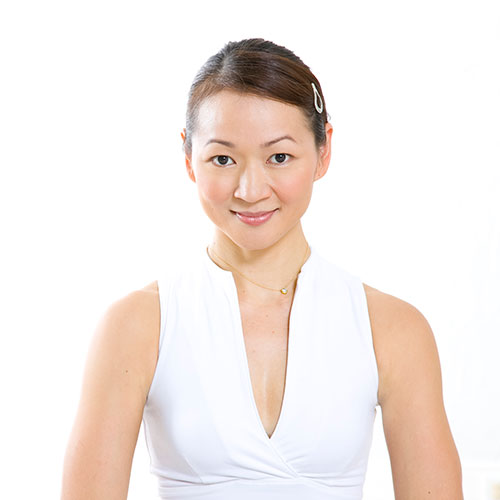 MARITONI TORDESILLAS
ASHTANGA YOGA
Coming from a physically demanding career as a professional ballet dancer, Maritoni was drawn to Ashtanga yoga's dynamic and fluid qualities. She was certified to teach yoga by Paul Dallaghan's Centered Yoga Institute in 2006. She has since studied Pranayama under O.P. Tiwari and Advanced Anatomy under Neil Barker. Maritoni is also a Yoga Ed. certified instructor for yoga for kids (K-8).
Her journey into the practice has taught her serenity, compassion and detachment. A mother of two and the director of a ballet school, she considers teaching dance and yoga as not only her passion but her vocation.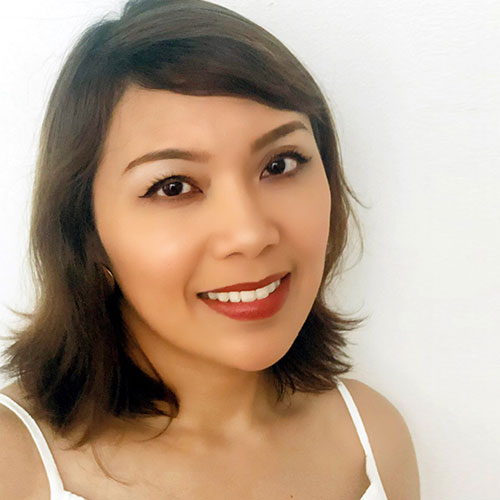 MICHELLE REYES-NAVARRO
ASHTANGA YOGA
Michelle Reyes-Navarro discovered yoga in 2003 and instantly knew that Ashtanga Vinyasa Yoga was the path she would pursue. Only a few months into the discipline, Michelle hopped on a plane to pursue a deeper practice with Sri K. Pattabhi Jois at the Ashtanga Yoga Research Institute in Mysore, India.
She was certified to teach by Paul Dallaghan at the Centered Yoga Institute in Thailand in 2005. She has learned Pranayama from the master, O.P. Tiwari, Advanced Anatomy with Neil Barker and has pursued further studies with teachers who inspire her like Richard Freeman and John Scott.
For Michelle, yoga is what shapes her as a daughter, wife, mother and businesswoman. In her own words – "The path of yoga is a lifelong process and I intend to learn it through my lifetime. Teaching yoga is service, helping others reach their highest potential."
NATURE CALDERON
ASHTANGA YOGA
Nature started her hatha yoga practice in 2001 and learned about the Ashtanga Yoga system in 2003. She obtained her teaching certification from Samahita Yoga Thailand / Centered Yoga Institute under Paul Dallaghan in 2009 and has since continued to take courses on Yoga Philosophy, Pranayama and Asana.
Nature had the wonderful opportunity to study under authorized Ashtanga teachers and deepen her practice under Sharath Jois in K. Pattabhi Jois Ashtanga Yoga Institute in Mysore, India. She continues to study the deeper dimensions of the practice and has studied Yoga Philosophy and Sanskrit with Jayashree, Professor Nagaraja Rao and Narasimha.
Aside from her yoga practice, Nature is also a Reiki practitioner in the Usui Shiki Ryoho Reiki lineage. Living up to her name, she continues her journey – learning, and responding to her calling to share her love of yoga and healing.
"Even so large as the universe outside is the universe within the lotus of the heart" Chandogya Upanishad
Peachie Kilayko
ASHTANGA YOGA
Peachie Kilayko has been practicing yoga since 2002. She started with Sivananda yoga and now dedicates herself to the practice of Ashtanga. In 2006 she completed a teaching-certification course under Paul Dallaghan at the Centered Yoga Institute, Thailand. She has also had the opportunity to study with Sri K Pattabhi Jois and his grandson, Sharath Rangaswamy, at a yoga conference.
Peachie continues her education in yoga by attending workshops with O.P. Tiwari (Pranayama), Neil Barker (Advance Anatomy), Paul Dallaghan (Hatha Pradipika), Richard Freeman and Cathy Louise Broda. In 2008, Peachie took the Yoga Ed. kids yoga teacher certification class, a curriculum based kids yoga class with Brynne Caleda.
RJ Ledesma
ASHTANGA YOGA
RJ Ledesma is a man of many hats. If only he had just as many heads.
He is a real estate developer, magazine editor, newspaper columnist, events and TV host, actor, and manservant to his wife and baby daughter. His yoga, his pranayama, his church life, his ovo-lacto vegetarian diet and his comic book collection, keep RJ sane.
He is a yoga practitioner and accredited Ashtanga Yoga teacher who trained in Yoga Thailand. Visit his website www.rjledesma.netniverse within the lotus of the heart" Chandogya Upanishad